Description
HDFury Integral 2 : Pioneering a New Era of HDMI TechnologyIn the rapidly advancing world of audio-visual technology, the HDFury Integral 2 stands at the forefront of HDMI solutions. Imagine a device that not only bridges the divide between old and new equipment generations but also unlocks possibilities you hadn't thought possible.
Crafting the HDFury Integral 2, we catered to the needs of content creators, streamers, and digital entertainment aficionados. The goal? To deliver an unparalleled visual experience with the clarity of 4K60 visuals and 4:4:4 color depth at 600MHz via HDMI 2.0b Level A.
But this is no ordinary HDMI converter. The power of the HDFury Integral 2 lies in its versatility. Whether you wish to relay a Dolby Vision stream to your TV or send Dolby Atmos to an AVR, this device has got you covered. It's like possessing the Swiss Army knife for all your HDMI requirements!
What's even more impressive is the HDFury Integral 2's ability to serve as an infoframe, HDR metadata handler, and a host of other essential roles, like the HDCP Doctor and EDID manager. Envision a world where HDMI technology operates seamlessly, intuitively, and without glitches. That's the world the HDFury Integral 2 envisions.
At the core of this marvel is a promise of universal compatibility. From HDR10+ to Dolby Vision, inclusive of LLDV, it embraces them all. And with its industry-leading 18Gbps signal integrity, you're assured of seamless integration even with less than perfect cables.
The HDFury Integral 2 is not just a product; it's a revolution. It's a commitment to what HDMI technology can and should be: powerful, versatile, and future-proof. Dive in today and witness the difference for yourself.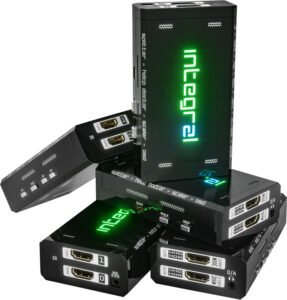 Key Features:
Versatile Conversion: Transform HDCP, FHD<>UHD resolutions, chroma, color depth, and space, guaranteeing optimal performance for all connected devices.
Audio and Visual Mastery: Stream Dolby Vision or HDR directly to your TV, while channeling Dolby Atmos or other sound formats to non-DV/HDR AVRs.
HDMI Powerhouse: A genuine 2×2 18Gbps HDMI device that can switch, scale, split, and more. Plus, it boasts roles like an Infoframe & HDR metadata handler, HDCP Doctor, and EDID manager.
Universal Compatibility: Supports every HDMI, HDCP, and HDR format, from HDR10+ to Dolby Vision, including LLDV. All sound formats? We've got them covered.
Efficient Management: Superior EDID management ensures smooth interactions between varied sources and displays. Features include OSD, IR, RS232, and premium audio outputs.
Intuitive Control: Harness the HDMI supervisory power via various platforms, including OSD, Windows GUI, RS232, and the iOS/Android APP (with GoBlue).
Unparalleled Integrity: Boasts the finest 18Gbps signal for a 5v device, promising flawless integrations even with less-than-perfect cables.
No More HDCP Errors: Tired of "HDCP 2.2 not supported" messages? The HDFury Integral 2 ensures they're a thing of the past!"
Hdfury Integral 2 Technical specs
HDMI revision:
HDMI 2.0b (Level A) 600Mcsc – 18Gbps
Integral2 Support:
600MHz/18Gbps HDR, HDR10+, HLG, DV & LLDV, ARC, ALLM, IMAX
Max Resolution:
4K60 4:4:4 8b, 4K60 4:2:2 12b, 4K120 4:2:0 8b or 8K30 4:2:0 8b
I/O:
2 HDMI In, 2 HDMI Out, IR, RS232, USB, Analog Jack, Optical Out.
Upscale port:
FHD 1080p to UHD 2160p & 2K/DCI to 4K/DCI
Downscale port:
UHD 2160p to FHD 1080p & 4K/DCI to 2K/DCI
Signal Conversion:
Resolution, Chroma Subsampling, Color Space, Color Depth, HDCP
HDCP Conversion:
Any HDCP to any HDCP with CST1 support
Operating Modes:
18Gbps Scaler, Switcher, Splitter & Matrix with CEC, ARC, and EDID management
Special Modes:
CEC Command, HTPC, Disable or inject HDR, HDMI Doctor and JVC Macro.
EDID Modes:
10 EDID Flags, 100 EDID Banks (10 custom)
Infoframe Modes:
Capture, edit, block, or replace HDR metadata, AVI & VSIF.
Read SPD, Audio, HDMI Vendor, HDMI Forum
Control Modes:
IR, Windows GUI, RS232 for Linux/MAC/Win, Android/iOS with GoBlue
On Screen Display:
Editable with custom text and mask. (cover TV channel logo)
Dimension:
3.9″L x 2.4″W x 0.8″H – in CM: 10 x 6 x 3
Weight:
130g – 0.3 LBS
Other info:
Input Lag <1ms (nanoseconds count)
for more information please also check the website https://www.hdfuryvertex.com